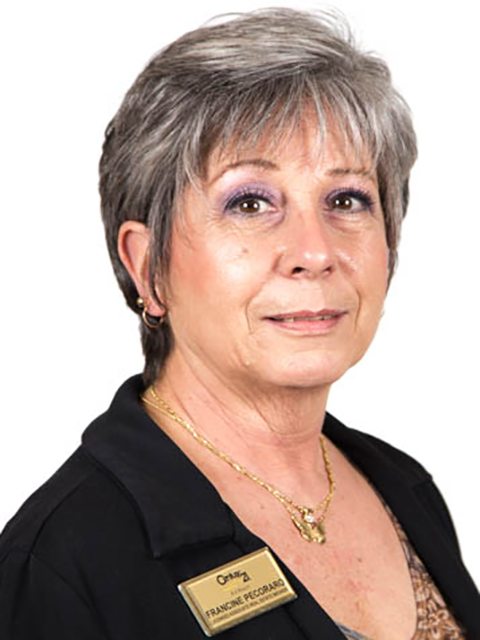 Francine Pecoraro
NYS Licensed Real Estate Associate Broker
Phone 516-826-8100 x 220
Cell 516-641-4613
Visit My Website
My goal is to help you sell and/or purchase a home for the best price, terms and conditions, in the shortest period of time, with the least amount of inconvenience to you. This can only be accomplished by thoroughly understanding the market.
As your Realtor, I strive to make the sale or purchase of your home and all of the associated activities free of stress, easy to understand, and at times, even fun. It is my goal as your full service real estate broker to provide you with superior service at all times to ensure that you feel comfortable and confident as we proceed to reach this important goal.
My expertise and real estate experience will benefit you whether you are buying or selling a home, or are a returning client. I pride myself on providing unparalleled service and look forward to developing a long-term relationship with you. I am available to answer any questions you may have. Whether you are upgrading or downsizing, relocating down the block or across town, upstate or out of state, across the country or out of the country, don't hesitate to contact me to discuss how I can best assist you with your real estate needs.
As a current and long time resident of Massapequa, I'm proud to call Massapequa "home". I'm a member of the Plainedge Alumni Association which raises funds for the Plainedge Alumni Association Memorial Scholarship to award a scholarship to a graduating Plainedge senior in financial need. In past years the PAA also raised funds and toys for Wantagh's John Theissen Children's Foundation.
In 2015, as a member of the Plainedge Alumni Association and working collaboratively with the Town of Oyster Bay and the Plainedge Community, I spearheaded the fund raising effort for the Det. Brian Moore Memorial Statue. As you recall, Det. Brian Moore was killed in the line of duty in May 2015. The Town of Oyster Bay is commissioning a life-size statue with Brian's likeness, which will be placed in Plainedge Park. With the overwhelming caring, support and generosity of the community and all the individuals, families and dedicated organizations, we have met our fundraising goal. The unveiling and dedication ceremony is scheduled for Plainedge Park in late spring/early summer 2016.
In 2005, I initiated and coordinated with Town of Oyster Bay Supervisor John Venditto's office, the dedication and street renaming of Ontario Avenue, Massapequa in honor of Michael S. Costello, who was killed in the September 11, 2001 attack on the World Trade Center. The street dedication ceremony took place on September 9, 2005.
Client relationships are at the heart of what I do. If you don't feel that I've built a strong relationship with you by the time we've closed on the sale or purchase of your home, then I haven't done my job.
I look forward to working with you.
My Listings
There are no properties.
My Pendings
There are no properties.
Sold/Rented
321 Sunset Boulevard, Massapequa, NY 11758
Bedrooms : 3
Bathrooms : 2
$819,990
15 Maple St, Massapequa, NY 11758
Bedrooms : 4
Bathrooms : 3
$659,000
3761 Hudson Ave, Seaford, NY 11783
Bedrooms : 4
Bathrooms : 3
$649,900
30 Springs Dr, Melville, NY 11747
Bedrooms : 4
Bathrooms : 4
$649,000
1078 Oak Neck Rd, Bay Shore, NY 11706
Bedrooms : 5
Bathrooms : 3
$549,000
41 Dennis Ln, Bethpage, NY 11714
Bedrooms : 5
Bathrooms : 3
$510,000
64 Coventry Gdns, Lynbrook, NY 11563
Bedrooms : 3
Bathrooms : 3
$499,000
90 N Hawthorne St, Massapequa, NY 11758
Bedrooms : 4
Bathrooms : 3
$495,000
3614 N Princeton Dr, Wantagh, NY 11793
Bedrooms : 3
Bathrooms : 2
$479,000
269 Beech Street, Massapequa, NY 11758
Bedrooms : 4
Bathrooms : 2
$475,000
2 Westgate Rd, Massapequa Park, NY 11762
Bedrooms : 3
Bathrooms : 2
$469,000
534 N Suffolk Ave, Massapequa, NY 11758
Bedrooms : 3
Bathrooms : 2
$447,500
450 N Bleecker Dr, Massapequa, NY 11758
Bedrooms : 3
Bathrooms : 2
$439,990
125 A Cleveland Ave, Massapequa, NY 11758
Bedrooms : 3
Bathrooms : 2
$435,000
84 S Millpage Dr, Bethpage, NY 11714
Bedrooms : 4
Bathrooms : 2
$435,000
264 N Richmond Ave, Massapequa, NY 11758
Bedrooms : 3
Bathrooms : 2
$429,500
2033 Saddle Path, Seaford, NY 11783
Bedrooms : 3
Bathrooms : 2
$429,000
3974 David Pl, Seaford, NY 11783
Bedrooms : 3
Bathrooms : 2
$425,500
22 Rachel Ave, Commack, NY 11725
Bedrooms : 3
Bathrooms : 2
$399,000
55 Cypress Ave, Bethpage, NY 11714
Bedrooms : 3
Bathrooms : 2
$390,000
2532 Washington Blvd, N. Bellmore, NY 11710
Bedrooms : 3
Bathrooms : 2
$385,000
128 Boston Ave, Massapequa, NY 11758
Bedrooms : 3
Bathrooms : 2
$385,000
706 Hilda St, Bellmore, NY 11710
Bedrooms : 3
Bathrooms : 2
$379,000
165 Fulton St, Massapequa Park, NY 11762
Bedrooms : 2
Bathrooms : 1
$379,000
69 Newton Avenue, Selden, NY 11784
Bedrooms : 3
Bathrooms : 2
$379,000
139 8th St, Bethpage, NY 11714
Bedrooms : 3
Bathrooms : 1
$375,000
3 Winding Rd, Massapequa, NY 11758
Bedrooms : 3
Bathrooms : 3
$375,000
29 Eastgate Rd, Massapequa Park, NY 11762
Bedrooms : 3
Bathrooms : 2
$369,000
1235 Eastview Ave, Wantagh, NY 11793
Bedrooms : 3
Bathrooms : 1
$369,000
331 Medea Way, Central Islip, NY 11722
Bedrooms : 3
Bathrooms : 3
$365,000
401 N Central Dr, Massapequa, NY 11758
Bedrooms : 2
Bathrooms : 2
$365,000
3869 Harbor Blvd, Seaford, NY 11783
Bedrooms : 3
Bathrooms : 2
$360,000
63 Wilson Ln, Bethpage, NY 11714
Bedrooms : 4
Bathrooms : 2
$355,000
15 Dogwood St, Farmingdale, NY 11735
Bedrooms : 3
Bathrooms : 2
$349,990
860 Jerusalem Ave, N. Merrick, NY 11566
Bedrooms : 5
Bathrooms : 2
$349,990
305 N Utica Ave, Massapequa, NY 11758
Bedrooms : 3
Bathrooms : 2
$349,000
1 Rona Ct, Massapequa, NY 11758
Bedrooms : 3
Bathrooms : 2
$349,000
995 Goliath Rd, Massapequa, NY 11758
Bedrooms : 4
Bathrooms : 2
$349,000
435 Staples St, Farmingdale, NY 11735
Bedrooms : 4
Bathrooms : 1
$347,500
61 Sarah Ct, Amityville, NY 11701
Bedrooms : 2
Bathrooms : 1
$345,000
328 N Delaware Ave, Massapequa, NY 11758
Bedrooms : 3
Bathrooms : 2
$339,000
160 Commonwealth Ave, Massapequa, NY 11758
Bedrooms : 2
Bathrooms : 2
$339,000
113 Ontario Ave, Massapequa, NY 11758
Bedrooms : 4
Bathrooms : 2
$335,000
175 N Maple St, N. Massapequa, NY 11758
Bedrooms : 3
Bathrooms : 1
$329,000
89 Cherry St, Farmingdale, NY 11735
Bedrooms : 4
Bathrooms : 1
$319,990
81 S Herman Ave, Bethpage, NY 11714
Bedrooms : 3
Bathrooms : 1
$315,000
637 N Indiana Ave, Lindenhurst, NY 11757
Bedrooms : 5
Bathrooms : 2
$299,999
12 Riverdale Ave, Massapequa, NY 11758
Bedrooms : 2
Bathrooms : 1
$245,000
346 Medea Way, Central Islip, NY 11722
Bedrooms : 2
Bathrooms : 2
$228,000
116 Westend Ave, Freeport, NY 11520
Bedrooms : 2
Bathrooms : 1
$218,000
3761 Hudson Ave, Seaford, NY 11783
Bedrooms : 4
Bathrooms : 1
$189,000
157 Millard Ave, W. Babylon, NY 11704
Bedrooms : 1
Bathrooms : 1
$175,000
226 Millard Ave, W. Babylon, NY 11704
Bedrooms : 1
Bathrooms : 1
$169,000