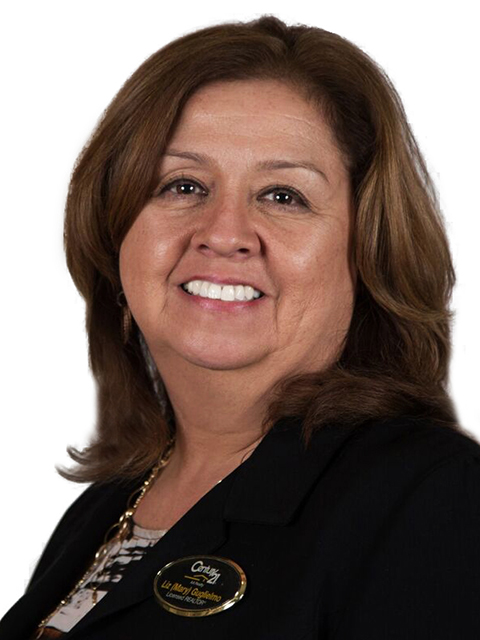 Liz Guglielmo
NYS Licensed Real Estate Salesperson
Phone 631-226-5995 ext. 256
Cell 631-664-8141
Visit My Website
The Local Long Island Real Estate Agent with a World of Experience
When buying or selling your home, choose the Long Island real estate agent that combines real world experience with an in-depth knowledge of Long Island.
After obtaining her real estate license in 1991 Liz quickly earned a place in the prestigious CENTURION® Award Club an honor awarded to the top two percent of CENTURY 21® real estate agents in the world.
Liz utilizing her prior business experience in the customer service industry Liz became a leading REALTOR® in the area. She earned her CBR1 designation assuring her buyers the highest quality service available.
Why choose Liz as your real estate agent? For one thing, she really listens to you and will work tirelessly on your behalf. Liz was born and raised on Long Island and just loves it. She can put her knowledge to work to find that special property that best meets your needs.


With a remarkable attention to detail and a drive for results, Liz is able to provide superior service in all aspects of residential real estate. Her sales experience, coupled with extensive real estate knowledge ensures your real estate needs will be carried out professionally, efficiently and personally.

Whether you are buying or selling the REALTOR® you select may be your most important decision. After all, you're choosing a business partner!
Go with a Proven Winner… Go with Liz Guglielmo… Liz Gets Results
CBR Certified Buyer Representative
My Listings
297 6th St, Lindenhurst, NY 11757
Bedrooms : 4
Bathrooms : 3
$579,900
My Pendings
146 Rollstone Avenue, W. Sayville, NY 11796
Bedrooms : 5
Bathrooms : 3
$599,990
64 Abbey Ln, Levittown, NY 11756
Bedrooms : 5
Bathrooms : 2
$519,000
1133 Herzel Boulevard, W. Babylon, NY 11704
Bedrooms : 3
Bathrooms : 2
$440,000
524 Oak Neck Road, West Islip, NY 11795
Bedrooms : 5
Bathrooms : 2
$430,000
Sold/Rented
66 Ocean Ave, Bay Shore, NY 11706
Bedrooms : 7
Bathrooms : 7
$675,000
7 Truxton Road, Dix Hills, NY 11746
Bedrooms : 5
Bathrooms : 3
$649,000
29 Browning Drive, Greenlawn, NY 11740
Bedrooms : 5
Bathrooms : 2
$579,000
2352 Hamilton Avenue, N. Bellmore, NY 11710
Bedrooms : 4
Bathrooms : 3
$560,000
62 Westgate Road, Massapequa Park, NY 11762
Bedrooms : 3
Bathrooms : 2
$529,000
133-33 85th St, Ozone Park, NY 11417
Bedrooms : 3
Bathrooms : 2
$524,990
46 Waterford Drive, Wheatley Heights, NY 11798
Bedrooms : 4
Bathrooms : 3
$509,000
10 Julia Lane, E. Northport, NY 11731
Bedrooms : 4
Bathrooms : 3
$499,000
29 Browning Dr, Greenlawn, NY 11740
Bedrooms : 5
Bathrooms : 2
$429,000
40 Cleveland Pl, Massapequa, NY 11758
Bedrooms : 4
Bathrooms : 1
$419,000
2511 S Bismark Ave, N. Bellmore, NY 11710
Bedrooms : 3
Bathrooms : 2
$419,000
3999 Demont Rd, Seaford, NY 11783
Bedrooms : 4
Bathrooms : 2
$418,500
959 Niagara Avenue, Lindenhurst, NY 11757
Bedrooms : 3
Bathrooms : 2
$418,000
97 Evergreen Avenue, East Moriches, NY 11940
Bedrooms : 3
Bathrooms : 2
$411,500
203 Trouville Rd, Copiague, NY 11726
Bedrooms : 3
Bathrooms : 2
$399,900
18 Dome Lane, Wantagh, NY 11793
Bedrooms : 5
Bathrooms : 2
$399,500
106 Veronica Ln, N. Babylon, NY 11703
Bedrooms : 4
Bathrooms : 2
$399,000
311 Litchfield Avenue, Babylon, NY 11702
Bedrooms : 4
Bathrooms : 2
$395,000
491 S 1st St, Lindenhurst, NY 11757
Bedrooms : 3
Bathrooms : 2
$389,999
2596 Burro Ln, East Meadow, NY 11554
Bedrooms : 3
Bathrooms : 3
$389,900
188 N Duckpond Dr, Wantagh, NY 11793
Bedrooms : 3
Bathrooms : 2
$379,000
1293 Jackson Avenue, Lindenhurst, NY 11757
Bedrooms : 4
Bathrooms : 2
$369,000
416 Ontario Avenue, Lindenhurst, NY 11757
Bedrooms : 3
Bathrooms : 1
$359,999
27 Croydon Dr, Bellmore, NY 11710
Bedrooms : 3
Bathrooms : 1
$359,000
1557 A Street, W. Babylon, NY 11704
Bedrooms : 4
Bathrooms : 2
$359,000
17 Heathcote Road, Lindenhurst, NY 11757
Bedrooms : 4
Bathrooms : 2
$357,000
140 Newark Street, Lindenhurst, NY 11757
Bedrooms : 3
Bathrooms : 1
$352,000
258 Westview Ave, Deer Park, NY 11729
Bedrooms : 4
Bathrooms : 2
$349,999
341 N Hamilton Ave, Lindenhurst, NY 11757
Bedrooms : 4
Bathrooms : 2
$349,999
136 40th Street, Lindenhurst, NY 11757
Bedrooms : 3
Bathrooms : 1
$349,999
210 Bernice Dr, East Meadow, NY 11554
Bedrooms : 5
Bathrooms : 3
$349,000
39 Kime Ave, N. Babylon, NY 11703
Bedrooms : 3
Bathrooms : 2
$345,000
93 Birs Avenue, Lindenhurst, NY 11757
Bedrooms : 3
Bathrooms : 1
$345,000
385 West Dr, Copiague, NY 11726
Bedrooms : 4
Bathrooms : 2
$340,000
22 Prairie Ln, Lindenhurst, NY 11757
Bedrooms : 3
Bathrooms : 2
$339,999
409 Ontario Avenue, Lindenhurst, NY 11757
Bedrooms : 3
Bathrooms : 2
$339,000
565 Peter Paul Dr, West Islip, NY 11795
Bedrooms : 3
Bathrooms : 1
$339,000
54 June Street, Lindenhurst, NY 11757
Bedrooms : 3
Bathrooms : 1
$339,000
1506 9th St, W. Babylon, NY 11704
Bedrooms : 3
Bathrooms : 2
$335,000
330 Wyona Ave, Lindenhurst, NY 11757
Bedrooms : 3
Bathrooms : 2
$329,990
30 Ward St, West Islip, NY 11795
Bedrooms : 3
Bathrooms : 2
$329,000
378 E Heathcote Rd, Lindenhurst, NY 11757
Bedrooms : 3
Bathrooms : 2
$329,000
1070 Udall Road, Bay Shore, NY 11706
Bedrooms : 3
Bathrooms : 1
$325,000
2 Emerson Ave, N. Babylon, NY 11703
Bedrooms : 3
Bathrooms : 2
$325,000
75 Frank St, Lindenhurst, NY 11757
Bedrooms : 3
Bathrooms : 2
$325,000
1293 Jackson Ave, Lindenhurst, NY 11757
Bedrooms : 4
Bathrooms : 2
$324,850
353 S 12th St, Lindenhurst, NY 11757
Bedrooms : 3
Bathrooms : 3
$319,900
156 Linton Ave, Lindenhurst, NY 11757
Bedrooms : 4
Bathrooms : 3
$319,000
191 Ava Dr, East Meadow, NY 11554
Bedrooms : 3
Bathrooms : 1
$319,000
171 Milandy St, Brentwood, NY 11717
Bedrooms : 2
Bathrooms : 1
$319,000
2 Daria Dr, Oakdale, NY 11769
Bedrooms : 2
Bathrooms : 2
$312,000
20 Wavecrest Ave, West Islip, NY 11795
Bedrooms : 2
Bathrooms : 1
$310,000
333 South Broome Ave, Lindenhurst, NY 11757
Bedrooms : 4
Bathrooms : 1
$309,000
255 Grant Avenue, Copiague, NY 11726
Bedrooms : 4
Bathrooms : 2
$309,000
15 Ithaca St, Lindenhurst, NY 11757
Bedrooms : 4
Bathrooms : 2
$309,000
817 Keith Ln, West Islip, NY 11795
Bedrooms : 3
Bathrooms : 2
$308,888
220 39th St, Lindenhurst, NY 11757
Bedrooms : 4
Bathrooms : 1
$307,000
30 Kuhl Ave, Hicksville, NY 11801
Bedrooms : 3
Bathrooms : 1
$305,500
1133 Herzel Blvd, W. Babylon, NY 11704
Bedrooms : 3
Bathrooms : 2
$300,000
22 Wyandotte St, Deer Park, NY 11729
Bedrooms : 3
Bathrooms : 2
$299,999
205 48th St, Lindenhurst, NY 11757
Bedrooms : 5
Bathrooms : 2
$299,990
107-15 124th St, Richmond Hill S., NY 11419
Bedrooms : 2
Bathrooms : 1
$299,000
643 Central Ave, Massapequa, NY 11758
Bedrooms : 3
Bathrooms : 1
$299,000
6 Glenda Drive, W. Babylon, NY 11704
Bedrooms : 2
Bathrooms : 1
$299,000
201 12th St, W. Babylon, NY 11704
Bedrooms : 4
Bathrooms : 2
$299,000
690 N Greene Ave, Lindenhurst, NY 11757
Bedrooms : 4
Bathrooms : 2
$294,690
361 Daniel St, Lindenhurst, NY 11757
Bedrooms : 3
Bathrooms : 2
$290,000
172 Throop St, W. Babylon, NY 11704
Bedrooms : 3
Bathrooms : 1
$289,000
278 Lafayette Rd, W. Babylon, NY 11704
Bedrooms : 3
Bathrooms : 2
$289,000
21 Leibrock Ave, Lindenhurst, NY 11757
Bedrooms : 4
Bathrooms : 2
$289,000
32 Headline Rd, Deer Park, NY 11729
Bedrooms : 3
Bathrooms : 1
$289,000
233 15th St, W. Babylon, NY 11704
Bedrooms : 3
Bathrooms : 2
$287,654
192 S 12th St, Lindenhurst, NY 11757
Bedrooms : 4
Bathrooms : 2
$287,500
292 N Erie Ave, Lindenhurst, NY 11757
Bedrooms : 4
Bathrooms : 1
$279,999
259 S Broadway, Lindenhurst, NY 11757
Bedrooms : 2
Bathrooms : 2
$279,500
15 Linden St, Lindenhurst, NY 11757
Bedrooms : 4
Bathrooms : 2
$279,000
874 Arctic St, Lindenhurst, NY 11757
Bedrooms : 3
Bathrooms : 1
$279,000
255 31st St, Lindenhurst, NY 11757
Bedrooms : 4
Bathrooms : 1
$279,000
5 Winchester Dr, Lindenhurst, NY 11757
Bedrooms : 3
Bathrooms : 1
$275,000
21 Washington St, East Islip, NY 11730
Bedrooms : 3
Bathrooms : 1
$275,000
45 Herbert Ave, Lindenhurst, NY 11757
Bedrooms : 3
Bathrooms : 2
$273,837
40 Cleveland Pl, Massapequa, NY 11758
Bedrooms : 4
Bathrooms : 1
$270,000
29 E John St, Lindenhurst, NY 11757
Bedrooms : 2
Bathrooms : 1
$270,000
56 Palm St, Lindenhurst, NY 11757
Bedrooms : 4
Bathrooms : 1
$270,000
228 Claremont Ave, W. Babylon, NY 11704
Bedrooms : 3
Bathrooms : 2
$269,999
145 Cambridge Dr, Copiague, NY 11726
Bedrooms : 2
Bathrooms : 2
$269,000
56 Ecker Ave, W. Babylon, NY 11704
Bedrooms : 4
Bathrooms : 1
$265,000
281 S 11th St, Lindenhurst, NY 11757
Bedrooms : 4
Bathrooms : 3
$265,000
12 Holt St, Amityville, NY 11701
Bedrooms : 4
Bathrooms : 3
$264,999
206 Leaf Ave, Central Islip, NY 11722
Bedrooms : 3
Bathrooms : 2
$259,990
244 S Broome Ave, Lindenhurst, NY 11757
Bedrooms : 4
Bathrooms : 2
$259,000
165 Heathcote Road, Lindenhurst, NY 11757
Bedrooms : 4
Bathrooms : 2
$259,000
216 S 12th St, Lindenhurst, NY 11757
Bedrooms : 3
Bathrooms : 1
$258,000
8 Blackberry Com, Riverhead, NY 11901
Bedrooms : 2
Bathrooms : 2
$255,000
88 4th Ave, Lindenhurst, NY 11757
Bedrooms : 4
Bathrooms : 2
$255,000
550 S Broadway, Lindenhurst, NY 11757
Bedrooms : 3
Bathrooms : 1
$250,000
771 S 9th St, Lindenhurst, NY 11757
Bedrooms : 5
Bathrooms : 6
$249,999
1100 Sipp Ave, Medford, NY 11763
Bedrooms : 4
Bathrooms : 2
$249,990
240 Austin St, Lindenhurst, NY 11757
Bedrooms : 3
Bathrooms : 1
$249,000
328 50th St, Lindenhurst, NY 11757
Bedrooms : 3
Bathrooms : 1
$249,000
237 33rd St, Lindenhurst, NY 11757
Bedrooms : 5
Bathrooms : 3
$246,500
196 S 8th St, Lindenhurst, NY 11757
Bedrooms : 2
Bathrooms : 1
$239,999
466 N Wellwood Ave, Lindenhurst, NY 11757
Bedrooms : 2
Bathrooms : 1
$229,000
626 S Wellwood Ave, Lindenhurst, NY 11757
Bedrooms : 4
Bathrooms : 2
$224,900
337 Oak Neck Rd, West Islip, NY 11795
Bedrooms : 2
Bathrooms : 2
$219,000
171 Milandy St, Brentwood, NY 11717
Bedrooms : 2
Bathrooms : 1
$210,000
1375 Lombardy Blvd, Bay Shore, NY 11706
Bedrooms : 3
Bathrooms : 1
$189,900
133 W Santa Barbara Rd, Lindenhurst, NY 11757
Bedrooms : 4
Bathrooms : 1
$189,000
1431 Pine Dr, Bay Shore, NY 11706
Bedrooms : 3
Bathrooms : 1
$179,999
144 Houston St, Lindenhurst, NY 11757
Bedrooms : 2
Bathrooms : 1
$175,000
1576 N Thompson Dr, Bay Shore, NY 11706
Bedrooms : 3
Bathrooms : 1
$161,400
134 Herbert Ave, Lindenhurst, NY 11757
Bedrooms : 1
Bathrooms : 1
$159,999
600 Fulton St, Farmingdale, NY 11735
Bedrooms : 1
Bathrooms : 1
$159,990
124 Millard Ave, W. Babylon, NY 11704
Bedrooms : 1
Bathrooms : 1
$155,000
206 Leaf Ave, Central Islip, NY 11722
Bedrooms : 3
Bathrooms : 2
$140,000
15 Benjoe Dr, Amityville, NY 11701
Bedrooms : 2
Bathrooms : 2
$139,000
15 Harrison, Amityville, NY 11701
Bedrooms : 2
Bathrooms : 1
$134,000
225 1st Street , Lindenhurst, NY 11757
Bedrooms : 3
Bathrooms : 2
$2,400